Dajaco can accommodate your stamping needs from short-run quantities to high production volumes.
Our press tonnage ranges from 5 to 600 tons. Depending on part size and complexity, we can produce up to 800 parts per minute.
The largest bed capacity is 5′ x 10′.
We are capable of producing metal stampings out of various alloys, including stainless, aluminum, HR/CR, dual phase, copper and brass.
[ezcol_1half]

Progressive Stampings


Progressive Stamping is a metalworking method that encompasses many different ways of forming raw material. This process involves placing a die into a mechanical press and as the press cycles (the top die moves up) to allow material as it unrolls from a coil to be fed using an automatic feeding system to advance from one die station to the next with each press stroke.
As the material advances from station to station in the press, it is important that the strip remains aligned with the tooling. Bullet shaped or conical "pilots" enter previously pierced round holes in the strip to assure this alignment through all of the stations in the die.
Each station along the path performs one or more specific operation simultaneously each time the die descends until the part is complete. The carrying web is used to transport the partially formed part through each station of the press until it reaches the final station which is typically a cutoff operation.
The cutoff operation separates the finished part from the carrying web, along with metal that is punched away in previous operation and is treated as scrap. With each stroke/cycle of the press, one or more completed parts are cut off and removed from the die.
[/ezcol_1half][ezcol_1half_end]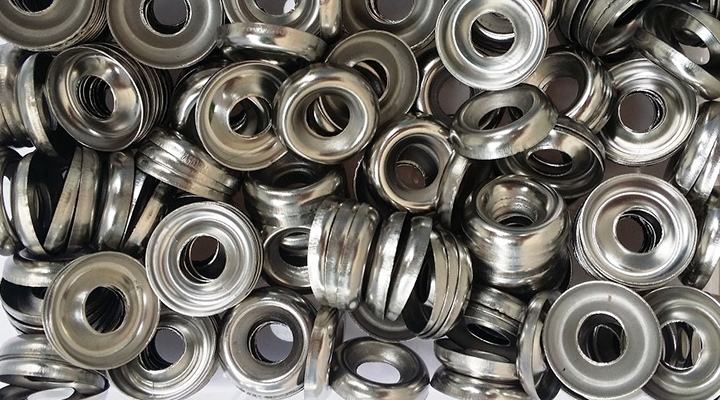 [/ezcol_1half_end]